Valorant Fps Drop Fix and Lag Fix 2021, Recent game from Riot Games have launched Valorant and it has become popular among gamers around the world. Many players are facing fps drop, loss, or some kind of lag in the gameplay.
In The Game Awards 2020, Valorant by Riot Games was nominated for Best Community Support, Best Esports Game, and Best Multiplayer.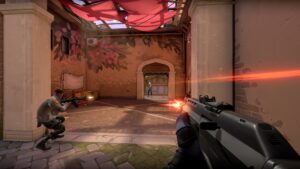 Here we have found two simple ways to increase fps and reduce lag in the game. Especially for those who have low-end pc and struggling to play. Even you have a medium-end pc then also you will find this helpful.
The game itself optimized for the best performance with minimal graphics so everyone can enjoy the game and what it has to offer. However, some people may find difficulties with the performance.
Valorant PC System Requirements:
Like all other games, Riot games have promised the gamers for Valorant to give at least 30-60 fps while gaming on a low-end machine.
Minimum System Requirements for Valorant(30 fps):
Processor/CPU: Intel i3-370M/Core 2 Duo E8400
RAM: 4 GB
OS: Windows 7/8/10 64-bit
Graphics Card/GPU: Intel HD 3000/4000 or equivalent
VRAM: 1 GB
Recommended System Requirements for Valorant (60 fps):
Processor/CPU: Core i5-4460
RAM: 4 GB
OS: Windows 7/8/10 64-bit
Graphics Card/GPU: GeForce GT 730 or equivalent
Dedicated Video Memory/VRAM: 4096 MB
High-end System Requirements for Valorant (144+ fps):
CPU: Core i5-4460
CPU SPEED:
RAM: 4 GB
OS: Windows 7/8/10 64-bit
Graphics Card/GPU: GTX 1050 Ti or higher
Dedicated Video Memory/VRAM: 4096 MB
Now we will see how to increase Fps in Valorant.
Lower your in-game graphics:
Go to in-game settings and as shown in the below image turn off and lower pretty much everything and choose None and 1x for Anti-Aliasing and Anisotropic Filtering respectively.
Fix the Lag and Fps drop problem in your game.
1. ScabilityGroup Resolution
Go to Run and search for "%appdata%". Then click ok.
You will find yourself in a folder name "Roaming". Now go back and "AppData" folder.
Now go open folder name Local.
Now go to folder Valorant>SAVED>Config> enter the folder with random alphanumeric name something like "25bbd723-95cf-52d0-91ce-239" then open Windows folder.
There you will find GamerUserSettings.ini. Open it and find "sg.ResolutionQuality=100.000000"
Change it to something between 45 to 60. This will make a noticeable difference in your game display quality. Lower the number to increase performance and increase the number if you want to increase graphics.
2. Gamebooster
Gamebooster is a software designed to make your game your game performance better no matter what game it is. There are various of gamebooster available to use but I would recommend using Razer Cortex because it has some powerful features and it is free to use.
Once you are done setting up your gamebooster you will find a significant difference in your gaming performance. It is definitely worth a try. This will help you to fix your fps drop and lag in Valorant.
3. Update your drivers
Make sure you have all your drivers of your pc updated especially graphics driver if you have any because most probably an outdated driver can also make issues.
4. Restart your PC
Rebooting your system helps CPU and/or GPU from being overloaded and can speed up. It will flush all the memories being used and clear up some space for the processors to cope up with the best possible performance.
There is a common practice for most laptop users. We just close the lid and it will by default keep your system at sleep and that means your system is still running but at a slower pace to save your files. So when you open the lid you can access your files faster. This is also common with some desktop users to save time.
5. Clean Boot your system
Performing a Clean Boot is an important step to halt all unnecessary resources that eat your system performance.
Conclusion:
Following all the steps for people who have tried to fix their Lag and fps drop in Valorant and didn't work and this should work like charm.
If you found this post helpful or if you have any suggestions or problems kindly drop a comment.
Also Read: Fixing high ping and loss in Valorant
Happy Gaming!